GON Sponsors Bayou Boogaloo in Mid City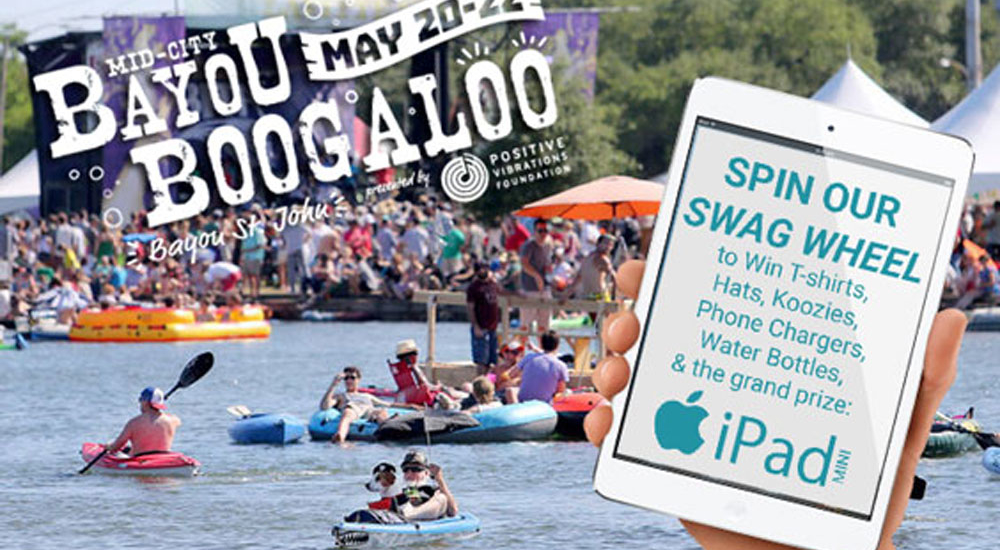 Come check out our tent at Bayou Boogaloo!
Get Online NOLA is sponsoring Bayou Boogaloo for the third year in a row. Join us for great music, drinks and fun on the bayou.
We've been collecting some pretty amazing SWAG for this year's Bayou Boogaloo in Mid City. Our Director of Tech, Jeremy, has built a very special swag wheel, so come check us out and give it a spin! Our big prize this year is an iPad.
Check out last year's iPad winner and photo gallery.
But what is Bayou Boogaloo?
For those of you who are unfamiliar, Bayou Boogaloo is a community-based festival held on the banks of Bayou St. John in the Mid City neighborhood of New Orleans. It is a very family oriented festival complete with 3 days of live music on 2 separate stages, live art exhibitions and a merchant marketplace, numerous food and beverage tents, plus recreation and activities for the whole family.
Here are the deets:
When: Friday May 20th @5pm through Sunday May 22nd @9pm
Where: Bayou St. John
Admission: FREE!!!
Bring your family, bring your dog, but don't forget to bring your sunscreen! Check out the music schedule here.